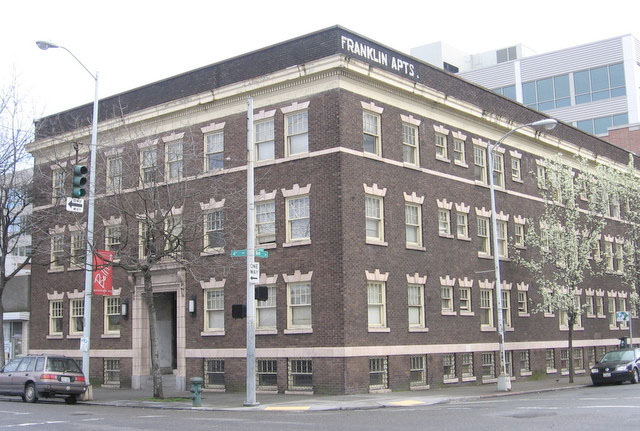 In an almost unanimousdecision, the Seattle Landmarks Preservation Board (seattle.gov) voted to nominate the historic Franklin Apartments, located on the northeast corner of Fourth Avenue and Bell Street at 2302 Fourth Avenue, as a landmark. The Franklin Apartments were built in 1918 after the first phase of the Denny Regrade (1906-1911) during the Seattle Boom.
After the Klondike Gold Rush, Seattles population grew significantly from 80,671 in 1900 to 315,312 in 1920. This spike in growth meant that there was a clear need for more housing. Prior the 1911 regrade, Belltowns residential landscape was mainly characterized by small frame dwellings and single occupancy hotels, made without the luxury of individual kitchens or bathrooms. Following the 1911 regrade, Belltown experienced a boom in development of multi-family apartment blocks, such as the Franklin, where home units contained kitchens and bathrooms. Thethree-story, 36-unit Colonial Georgian RevivalFranklin Apartments was constructed in 1918, as an investment project by real estate developer Frank M. Jordan.
TeamRise, who purchased the Franklin Apartments and the land adjacent to it last year for $20 million,told the Puget Sound Business Journal last year that the firm is planning to build two condominium buildings- one 25-story high-rise and one 8-story. The condo project will use the historic brick Franklin Building facade.
The board will consider whether to designate the 1918 Franklin Building as a landmark. The meeting is set for December 2nd,3:30 p.m. in Room 4060 of Seattle Municipal Tower.