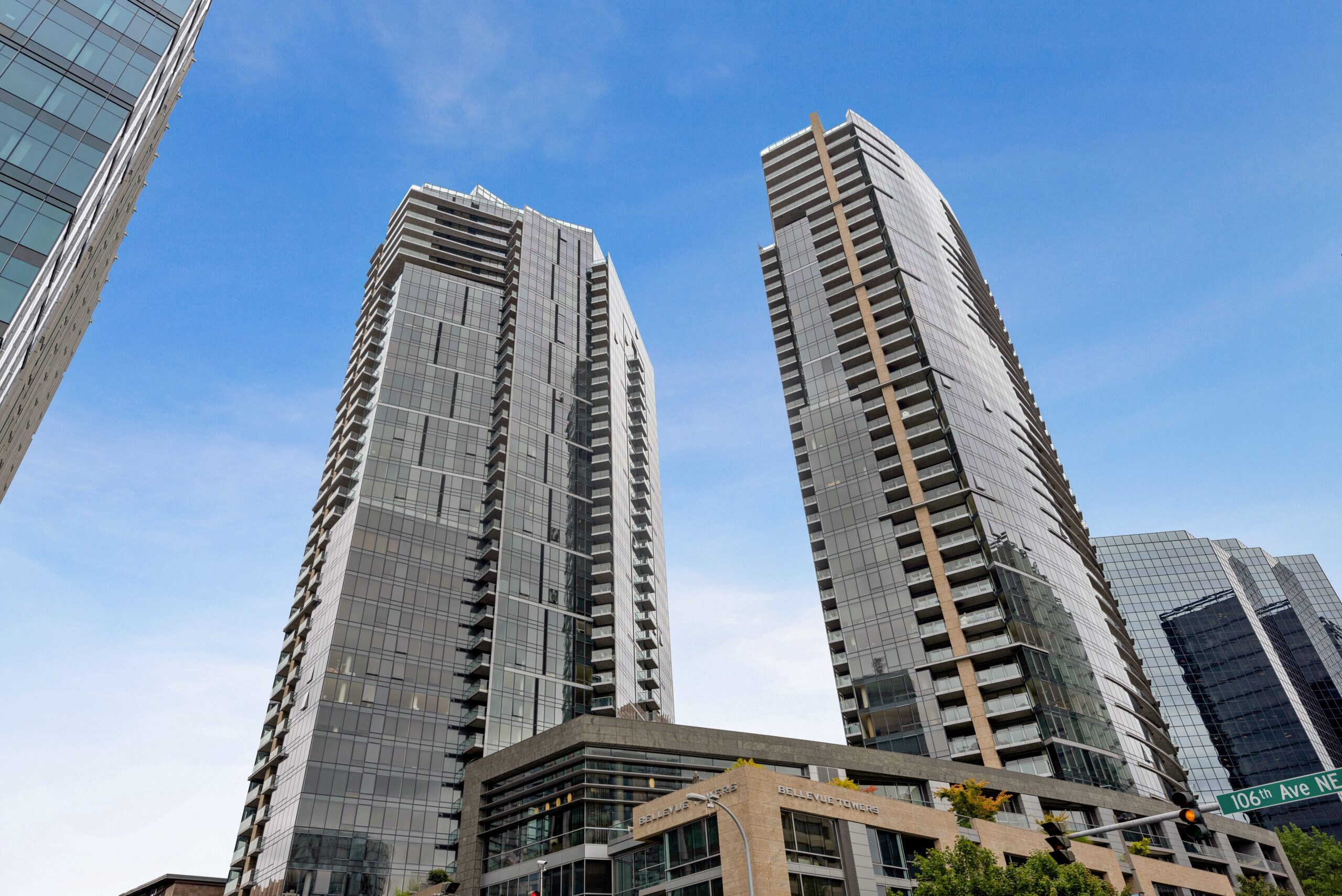 Bellevue Towers, located at the intersection of NE 4th St and 106th, is a pair eco-luxury twin towers, with modern exteriors constructed using an attractive mix of steel and glass. The towers are the largest LEED Gold certified residential developments in the Pacific Northwest, with its rooftop gardens and high energy-efficiency benefiting both its residents and its sustainability. Developed by Gerding Elden and constructed by Hoffman Construction Company, the towers have been crafted with meticulous and the highest industry standards for residential quality of life and de-sign.
With a coveted Downtown Bellevue address, Bellevue Towers offers its residents the best of the city's dining, shopping, and entertainment experiences just steps from their door. Bellevue's skybridges connect the city's urban excitement through comfortable and walkable overpasses, and are just blocks from the towers, putting the best of Bellevue at residents' fingertips. Bellevue Towers also neighbors the light rail, making both general travel and commuting to Bellevue's neighboring cities easy and convenient.
Bellevue Towers provides residents with an expansive package of both amenities and residential spaces that bring even more perks to luxury high-rise living. Featuring spacious community great rooms, a fireside terrace, multiple spas, a well-equipped gym, and more, Bellevue Towers go above and beyond the offerings of many luxury condominiums, providing residences with an expansive array of spaces to relax, work, and entertain in.
Bellevue Towers Quick Facts
42 and 43 stories
539 units
Built in 2008
Includes studio, 1-bedroom, and 2-bedroom, and 3-bedroom units ranging from 519 to 2,253 square feet
LEED Gold Certification
Amenity Package
Lobby and 24-hour concierge
Expansive, well-equipped fitness center including weight training and cardio training rooms
Men's and women's locker rooms
Community great room
Fireside terrace
Multi-purpose rooms
Residential dining room
Kitchen
Dining terrace
Whirlpool spa
Sauna
Steam room
Cold dip
Spa terrace
Screening room
Pet run
Secured parking
---
Learn More About Bellevue Towers' Neighborhood
Bellevue is a bustling city located just east of Seattle across Lake Washington. The city hosts thriving commercial districts and is consistently ranked as one of the best school districts.
---