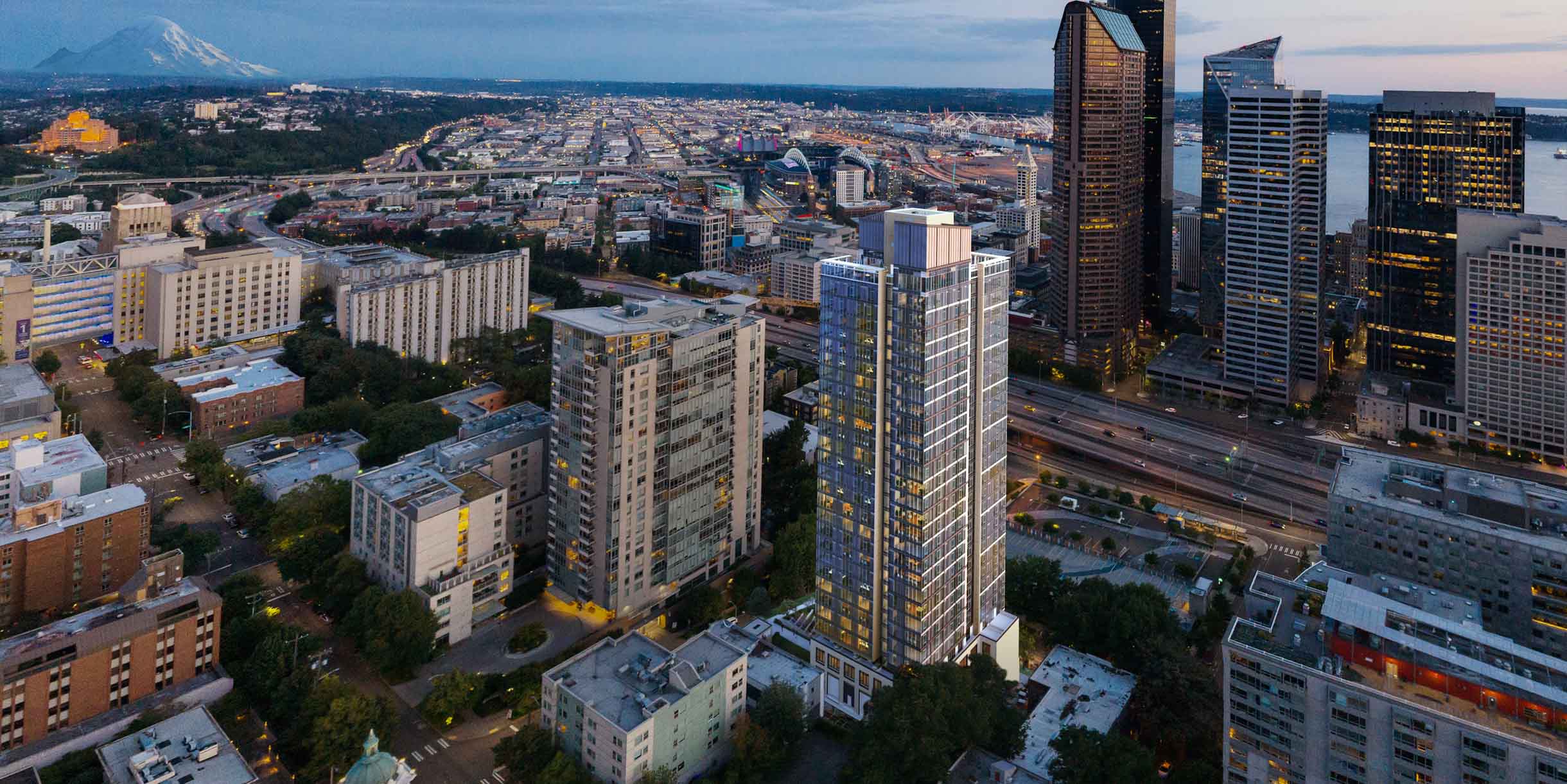 The Graystone is First Hill's first high-rise residential condominium tower constructed since 2016, located on 800 Columbia Street, and set for completion in 2023. The tower is named for the historical Graystone Manor, which was one of the city's most sophisticated social clubs and hotels. The tower was developed by Daniels Real Estate, an acclaimed development firm that is widely known for helping to preserve and shape Seattle's skyline with its iconic architecture. With inspiration from the former Graystone Manor, and in partnership with world-class designers and architects, The Graystone has been constructed to provide its residents with the timeless sophistication and elegance of a bygone age, expressed in a modern way.
Constructed within the city's most coveted address, The Graystone places its residents within the heart of Seattle's historic First Hill neighborhood, which has preserved its iconic "Little Manhattan" feel. Graystone's historical address means that residents are just a scenic stroll away from Seattle's most acclaimed experiences, galleries, theaters, museums, and more. First Hill's classical charm is evident in the shop-windows of the picturesque boutiques, cafes, restaurants and bars, which punctuate the neighborhood's famous historical architecture, cobblestone streets, and secret gardens.
Residents of Graystone enjoy an unparalleled amenity offering, which spans across three full floors, all teeming with luxurious residential spaces. With a focus on residential well-being and state-of-the-art design, The Graystone has crafted its amenity spaces to push urban liv- ing to the next level. From a world-class fitness center overlooking waterfalls, to a spacious community water park, Graystone's amenity offerings provide its residents with an un- matched package that transform urban living into a luxurious experience.

The Graystone Building Quick Facts
31 Stories
271 Units
Scheduled completion in 2023
Steel and concrete construction
Includes studio, 1-bedroom and 2-bedroom units ranging from 407 to 1,227 square feet
Sub-penthouse levels offer two-bedroom and three-bedroom floorplans ranging from 686-1,662 square feet of interior space
Includes penthouse units ranging from 1,816 to 2,047 square feet
Amenity Package
Grand entrance and lobby
World-class fitness center and yoga studio
Dog run and washing station
Storage and bike room including 30 electric bikes for residents' use
Residential water park and waterfall feature
Business center, including co-working spaces and conference rooms
Private residential green space
Residential club room
Dining lounge
Media room
Spacious outdoor terraces, including barbecue and dining equipment, as well as a fire pit feature, and unobstructed 360-degree views
Parking is available for purchase for select units, with vehicle charging options also available



---
The Graystone Amenities:
---
Learn More About The Graystone's Neighborhood
First Hill is a dense urban neighborhood located south of Capitol Hill. First Hill is home to Seattle University in addition to a collection of well-known private schools.
---